GET THE PROFILE ALONG ITS ROUTE (ITINERARY)
WITH
3D ROUTE BUILDER
REMINDER OF PREVIOUS STEP
The previous step was the creation of his ROUTE with VELOMAP.
We saw there that obtaining the long profile was necessary, and possible with GOOGLE-EARTH. But that the manipulation in the latter is long, uncertain and tedious.
The software tool 3D ROUTE BUIDER allows to automate and make this step reliable.
3D ROUTE BUILDER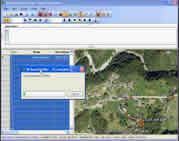 Since the beginning of 2017 this software is no longer offered by its creator-publisher HYBRID GEO TOOLS.
Many third party download sites offer it on their platform. But as none of them offer the latest version of 2015 (v1.4.0)… here it is.
Unfortunately, the unlicensed version only allows to process files of less than 500 points, and does not offer backup.
But the calculator works, and the profile graph can be copied.
OBTAINING LONG PROFILES - USE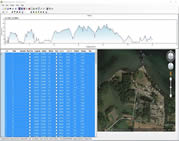 It must be installed on a computer:
Google-Earth (to be driven by 3D-ROUTE-BUILDER)
3D-ROUTE-BUILDER-PLUS
For use download and follow the 3DRBP Procedure in PDF that I created.
SMARTPHONE VIEWING
During the cycle tour it is interesting to think about the timetables and practical arrangements for the next day according to the characteristics of the stage ahead.
There is nothing like a numerical and graphical summary… that you can consult on your Smartphone.
This solution is described on the page GPX-VIEWER.