ELECTRIC ENERGY IN CYCLO-HIKING
Travelling in a modern way with equipment of our century, the problem of Electric Energy arises.
This applies to smartphones, tablets and GPS; but also to EAB.
If the nights are under one roof then it's easy. On the other hand, when camping you are not always sure to find pitches with electricity in the tent areas. In wilderness camping, there the problem is whole.
CAMPSITE WITH ELECTRIC TERMINAL
At the campsite you need an extension cable to connect to the electrical terminals.
There, at the terminals, things get complicated. Depending on the country and the campsite, the connection sockets are not at all the same.
CONNECTION TO THE CAMPSITE TERMINALS
The camping terminals are a source of complications. In Western Europe alone you can find 6 different types of plugs.
Here are these 6 plugs and the simplest ways to adapt to them:
CAMPING
SOCKETS

Plug P17
Plug E
Plug F Schuko
Plug J
Plug K
Plug G
Europ


with the following exceptions

YES
YES
France
YES
YES
YES
Switzerland
YES
YES
YES
Denmark
YES
YES
YES
England
YES
YES

ADAPTER




to be plugged into the terminal socket of the campsite

Male P17 to female Schuko


Direct without adap­ter
Direct without adap­ter
Plug male J to female Schuko

Plug male K to female Schuko


Plug male G to female Schuko




EXTENSION
to the tent
with:

1 plug Schuko M
1 plug Schuko F

details in the next chapter

details in the next chapter
For further information see all world standards here

For the P17 male to Schuko female adapter it might be tempting to put a monobloc version.

This would be a FALSE GOOD IDEA. Indeed some camping electrical boxes have a closing door. In this case, the cumulated stacking of the adapter and the Schuko plug of the extension cord would not allow the door to be closed.
THE EXTENSION CORD
THE CABLE AND ITS SECTION
CAUTION DANGER :
NOT TO SPARE THE GROUND WIRE

Immersion heaters have an earth connection, so 3-conductor extensions are required by definition.
If only electronic chargers are connected, these often only have 2-pin sockets. A 2-conductor extension cable (without earth wire) can be tempting.
This would be a SERIOUS SAFETY MISTAKE…
If the extension cord is accidentally punctured or cut with a hand-held metal tool, the only current draining to earth will be the body1… causing the danger of electrification.
With a 3-conductor extension cord, the current will flow from the injured energy conductor to the ground conductor, which is also injured. In doing so, the accidental energization of the earth conductor will travel up to the differential protection device of the camping terminal, immediately causing the injured cable to be disconnected and de-energized.
Commercially available outdoor extension cords are always too large in cross-section, as they are suitable for motorhomes or car camping, and therefore have possible amperages of 10 to 16A. These cables therefore have a copper wire cross-section of 1.5 or 2.5 mm². This is unnecessarily too heavy for cyclo-campers.
If, like us, you only want to supply power to chargers, then a cable with 0.75 mm² conductor cross-section is more than sufficient. If you use an immersion heater (commonly known as a heating rod), then a cable with a cross-section of 1 mm² is ideal. Each additional mm² of copper cross-section is an unnecessary weight.
A section of 0.75 mm² allows more than 3 Amps to pass through, i.e. a power of 700 W. With a cross-section of 1 mm² the current can rise to 5 Amps, i.e. a power of more than 1,000 W. Don't forget these limits, especially if you borrow powerful equipment from camping neighbours… or if you lend the cable! To keep this in mind, you can mark "3A max" (or "5A max") on the socket.
An orange coloured cable is very easy to spot on the ground and avoids getting your feet caught in it. A good choice can therefore be garden extensions. But their cross-sections are always 1.5 mm² or even 2.5 mm²… Much too heavy!
For a 0.75 or 1 mm² EXTENSION, the only solution is home-made:
Buy an orange 3G0.75 or 3G1 cable (depending on whether it is used for charging only or with immersion heater).
The designation [3G0.75] corresponds to

3

conductors ([

3

G0.75]), 1 of which is green/yellow ground (this is the 'G', as Ground of [3

G

0.75]) and a cross section of 0.75 mm² ([3G

0.75

]).
An example of a reference: LappKabel-OLFLEX-550-P-3G075-0013601 (CONRAD)
For the length we can see that 10 meters are VERY often insufficient. The bollards are commonly common to several tent pitches… and we are not always at the closest one! A length of 20 meters will be a minimum, our preference is for 30 meters. The choice will be made on the comfort-to-weight ratio, as this does not change the price since the cable is sold in 50m crowns.
ELECTRIC SOCKETS
To make the extension cable, IP44 waterproof plugs (1 male, 1 female) must be fitted at the ends of the cable.
For the male plug, it is imperative to choose a model that complies with European standards and not only with French standards.

This type F (Schuko) plug, which complies with European standards, will be connected to earth everywhere. In France as well as in Europe.

Indeed the earth connection is double: frontal (3rd French-style plug) or lateral (lateral strips).

This plug type E only to French standards, plugged into a SCHUKO European wall socket, will not be connected to earth.

This is because SCHUKO European wall sockets have the earthing connection via slats on the side of the socket and not via a round plug on the front as in France.
EXTENSION CORD REEL
Any extension cord quickly becomes an unbreakable noodle bag if it is not rolled up carefully. The corollary being that the clutter is increasing. You don't know where to put it on the bike.
To make it easy to use and always compact, the best thing to do is to make a small, simple and light reel for it.
Just tinker with one from 5 mm thick marine plywood. It's strong and light. Our 30-metre extension tubes can be easily coiled up.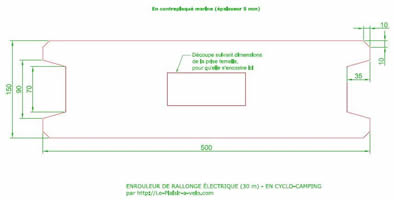 WITHOUT ELECTRIC TERMINAL
AT THE CAMPSITE… WHERE WE CAN, AS WELL AS WE CAN
In discussion with the reception we can sometimes leave the material in charge in their office. The problem is that the load is sometimes long and you can be deprived of your gadget all evening if the reception closes early. And the morning departure can be delayed until the reception desk is open.
Some people plug their appliances into the bathroom. This solution is viable in Germany, Switzerland (German-speaking!), the Nordic countries, where honesty is widespread and common. In our parts of Mediterranean Europe (France and others further south) this is very favourable to an unwanted change of ownership!!!
POWER-BANK - UNIVERSAL SOLUTION… CLASSIC OR WILDERNESS CAMPING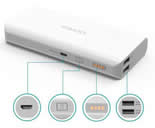 Many GPS units can be powered by batteries instead of rechargeable batteries. This can be handy as a backup, but it can be expensive.
The most universal solution is to equip yourself with a large rechargeable battery, commonly known as a POWER-BANK. We are equipped with versions 10400 mAh which are excellent and very good value for money. Of course you need to have access to an electrical outlet to recharge them from time to time. For us every 3-4 days is enough.
Depending on the Bank's capacity and the power of the equipment to be recharged it will be more or less often.
For the choice of the capacity of its Bank, it is necessary to make an electrical assessment of all its essential equipment and to deduce the number of milli-ampere-hours necessary.
DRIVE CHARGING
CHARGING WHILE DRIVING ON DYNAMO - E-WERK

If you are equipped with a hub dynamo, it is possible to consider using it to load your equipment while driving.
Different equipment is on the market. The most efficient and reliable are :
All the experiments and measurements collected on the web, as well as the conferences we have attended, prove that this solution works well under the condition of driving at an average speed of at least 18 km/h.
This technological solution is therefore only functional for cyclo-sportsmen in competition mode.
The only others could be tandemists with medium luggage loads. In this case the critical average speed could perhaps be reached.
CHARGE WHILE DRIVING BY WIND TURBINE

It is sold of so-called bicycle charging wind turbines. They're gadgets. By the way, the salesmen only write that it produces 5 V. None of them give a figure for intensity or power.
All the feedback we've had is that they're really inefficient… for an outrageous price for such a gadget..
Even if one day (?) the technology evolves favourably, the problem will always remain that the charging power will depend on the strength and direction of the wind. The latter can easily cancel and even reverse the relative wind due to the cyclist's advance (wind in the back!!!).
CHARGE EVERYWHERE - SOLAR PANELS
For roaming far from any power source the best is the solar panel combined with a large buffer battery.
There are many offers on the market.
It is advisable to :
Choose FLEXIBLE (unbreakable) panels with a large surface area (therefore expensive!) to have sufficient power even on cloudy days.
Place these panels horizontally flat above the rear luggage rack or trailer bed.
It is necessary to analyze the power requirement by taking stock of all your electrical and electronic equipment.
A very good file on the subject can be found on the site EXPEMAG.COM