SHIELD ONESELF
Protect yourself… FROM SHOCKS - Helmet
Over the years we have many good NUTCASE, ABUS (ACW Lane U), CASCO (E.motion Cruiser Star) helmets. Some were adapted for summer, others for winter.
Now we have a single helmet that we use in all seasons. It's a CASCO-Speedster.

It's not very cheap. But we only have one left, universal all year round. It's great with its visor option: wind, sun, rain protector.
This is THE IDEAL helmet for wearing corrective eyewear.You can wear your usual high-end glasses (progressive…) and be perfectly protected.
On sale for example at Amazon
In the SUMMER it is very well ventilated. And to protect yourself from the cold in WINTER, just add a little optional protection: the "Casco 4-Season Cover for SPEEDster".
This closes 9/10ths of the air vents. Equipped with a cap under helmet (see below) we face the winter outings without worries.
Protecting yourself… FROM THE RAIN
JACKET and PANT
Whether for the top (jacket) or the bottom (trousers), breathable clothing is necessary to avoid sweating.
The best (not the cheapest!) GORE-BIKE-WEAR clothing is really the most efficient.
TIP: KEEP THE WATER REPELLENT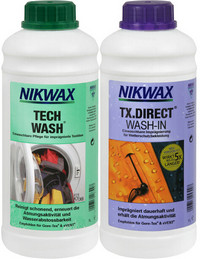 Rainwear loses its water-repellent properties when washed.
Products exist to limit the negative effect of washing and others to restore this quality.
After many unsuccessful attempts we have now adopted NIKWAX products and more particularly:
Cleaning with NIKWAX Tech Wash
Waterproofing with NIKWAX Wash-in TX.Direct
CAPE
We first used the traditional cycling rain capes. The protection is, of course, effective against the rain. On the other hand, the traditional bell shape has many disadvantages:
You turn into a hot air balloon, the air rushing in from underneath.
High wind resistance, therefore resistance to forward movement. Big additional effort.
As with any closed rain gear (even GoreTex), after several hours of pedalling in the rain, you are all wet underneath.
Impossible to correctly signal a change of direction, the arms being hidden under the cape.
In 2006, in Switzerland, we came across cyclists equipped with capes that seemed very interesting to us. We bought some at the end of our Swiss tour.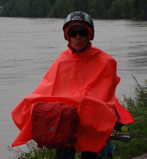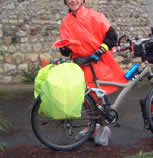 DESCRIPTION:
Chasuble shape.
Material imitation oilcloth or fine and flexible rubber.
Separate hood.
Bright colour for safety (yellow or orange).
Rear panel of the width of the body, which attaches by 2 cords around the waist (large enough to include our water bag).
The front panel is wider than the back, as it encompasses the shoulders. Therefore the arms are under the front panel when the hands are on the handlebars.
2 finger loops under the front panel allow to keep it extended on the handlebars.
Due to the chasuble shape the arms may protrude from the chasuble when stretched out to indicate changes in direction.
They are extremely efficient:
Effective protection.
Comfort (well ventilated, prevents perspiration).
Ease of dressing and undressing (not negligible during intermittent showers).
Quick drying (water runs off without being absorbed).
Low weight and small size.
In 2019 we find its strict equivalent as a Poncho in the HOCK brand in the RAIN-CARE model. Of course it is the Yellow model that you have to choose to be seen. It exists in 3 sizes. There are not many sellers. And moreover some have only the color blue and moreover do not have all the sizes. To help you to find here the EAN codes:
4046283501007 for size L, 4007590011405 for size XL and 4260271951623 for size XXL.

WARNING: Some bicycle equipment sites sell the RAIN-STOP model, which is an aberration for bicycles. Indeed, with this model unsuitable for cycling, you will find yourself inflated like a Michelin Man or a hot air balloon.
A chasuble cape chosen in this way is perfect for the rain when cycling in the summer or in the summer months. On the other hand, for long winter rides a windproof, weatherproof and rainproof jacket is much better. See bottom
VISOR
The following is interesting for classic helmets.
When wearing cycling glasses (against the sun and/or with corrective lenses) it is very uncomfortable and unsafe to have the glasses covered with drops of water… and in the fog.
Some helmets have a built-in visor, but the size is largely insufficient to protect the glasses from the rain.
For a good protection it is enough to wear a visor under the helmet, the front stuck between glasses and helmet.
This visor can be :
Do-it-yourself from a bicycle rain cap (WATERPROOF) HOCK brand:

Then the trick is to decoat it leaving only the adjustable head strap.

After decalting it, the shape is similar to the sun visor.


Ready-made, e.g. summer sun visor. The criteria is that it should be:

Slightly thick and rigid. Rigid so as not to deform under the force of the wind.
With a head circumference that is neither too high nor too thick so as not to take up too much space under the helmet rim.
OVERSHOES

We have shoes made of split skin. So the rain penetrates slowly. But if it rains continuously, we still get our feet wet, which is uncomfortable.
Overshoes (or shoe covers) are very effective against this. In GoreTex they are protective and breathable. With Velcro or zip, they are quick to put on.
Protecting yourself… FROM THE COLD
The subject is not the coolness of summer when cycling… but the cold of spring when hiking (experienced during our Tour de Bourgogne 2012) or the harshness of winter in the local walks.
Moreover, the listed equipment is designed for more than just a simple trip to any activity. Cycling is the ACTIVITY itself, our daily winter outings last 1 to 2 hours… there the cold has time to penetrate if you are not protected.
Head

Beanie type "Beanie under bike helmet".
Thin and warm, it does not interfere with the helmet.
Of course no woolen cap! It doesn't breathe so it retains moisture. Moreover the over-thickness shifts the helmet too much from the skull, which is detrimental to the good conservation of neurons in case of a fall !!!
Ears

Possible with the 180'S EAR WARMERS 180s.
They hold the ears tightly but not too tightly. The back strap goes around the skull without interfering with the helmet. GREAT.
Only they protect against temperatures down to 0°C.
Worn over the above mentioned "Bicycle helmet cap", they allow you to attack sub-zero temperatures. But the feasibility depends on how far down the helmet rim goes.
Hands
Of course winter gloves, but in addition, depending on the level of cold, one or even TWO fine silk undergloves are put on.
Body (by bike)
The great anti-cold classic is doing the onion. Making onion is the game of multilayer.

Depending on how cold it is:
One or two light but warm and breathable underwear.
In very cold weather, a light low-range silk scarf folded into a thick square on the belly (under the zippered ventral part of the suit).
Thick cycling suit (with chamois-coloured bottom)
A very protective "windstopper® softshell" close-fitting jacket.
REMINDER :
THE FLUO COLOUR (yellow or orange) ALLOWS TO BE WELL VIEWED ONLY ON THE DAY.
REFLECTIVE TAPES (3M-Scotchlite type) WILL ALLOW TO BE WELL VIEWED ONLY AT NIGHT.
In any case a "Long-sleeved safety vest". In the long-sleeved version it allows to be well protected. Moreover the YELLOW extended arm is VERY VISIBLE when changing direction.
It is advisable to take a model with a VERY WELL PLACED and NUMBERED reflective stripes so that it is very visible.
Waistcoat with VERY WELL-DISPLACED KT2O reflective stripes,

It's close to the body and protects from the wind and cold.

It is sold as a rain protector as well, but he is QUICKLY LOSING that quality.

Sport Jacket Hot189

He's nowhere near the body, and he's cut with a baseball player's build.

BUT HE'S VERY, VERY PROTECTIVE FROM THE COLD, THE WIND AND THE RAIN. And he retains those qualities.
Body (at camp or on foot)


For cold weather it is customary to wear a fleece jacket at camp or when walking. The disadvantages of fleeces are volume and weight.
A high-performance replacement solution is the HAGLÖFS L.I.M Q Barrier Pro Hood for men and women… 190 grammes !!!… who can say better?
Compared to our previous fleeces the weight gain is 750 grams for both of us. The volume has been DIVIDED BY 4 !!!
Feet
Of course thick warm socks, with extra depending on the level of cold :
Under silk socks.
Overshoes GARNEAU "Wind Dry SL" for exemple.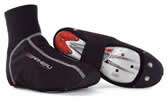 Protect yourself… FROM DOGS
When cycling in Germany or German-speaking Switzerland, there is no such thing as a dog problem. Dogs are educated there. It is very common to see, even in the city, people gather in the evening on a square and make there common exercises of education and training to their dogs. So they are not crazy to run around, are not aggressive, obey perfectly to their masters. The masters respect walkers and hikers and keep their animal as much as necessary.
In other countries, including France, it's a completely different story. In France there are a few rare masters who master their dog, one order is enough as it should be. On the other hand the most numerous are the negligent people who let their dog wander in all directions. In other cases it is the dog who is the master. There are also the deranged masters who push their dog to aggressiveness. In some other countries, the height of which is Romania, it is infinitely worse, the bands of stray dogs swarm there.
Crazy and uncontrollable dogs can cause the cyclist to fall, as falls are rarely harmless. With aggressive dogs or dogs in packs the additional risk is to get bitten.
Depending on the case, the destination and the cyclist's temperament, different solutions exist:
STOP, and/or WALK beside the bike. Some dogs only run after the bikes. Therefore, all they have to do is stop or walk to stop their delirium.

ULTRASOUND TRANSMITTER. The "DOG DAZZER 2"is often quoted to stop or scare away aggressive dogs without traumatizing them. It is nevertheless specified that it does not work on some dogs…! Moreover, ageing dogs (hearing-impaired) are insensitive to it. Their loss of hearing can make them more aggressive through the fear generated by the surprise effect (they do not hear you approaching).
However, our tests have never been conclusive.

PEPPER SPRAY. Very efficient.
The pocket versions (75ml) are difficult to grip and trigger in emergency situations. In addition, their volume is low. The gel versions are preferable to be less sensitive to the wind. The jet is then more directional and without risk of backward movement. Moreover the gel remains stuck to the nose of the evil beast and neutralizes it longer.


An interesting and not too expensive product is, for example, the 300ml pepper gel tear gas spray from Securicount.

Its handle allows a good grip and a good control of the aimed direction. It is a little cumbersome, but the autonomy is important (repeated aggressions). It is easy to carry it on a front bag (held by a turnbuckle). It is then very easily available if needed.



MATRAQUE. Very effective against dangerous dogs. But beware of trained defense/attack dogs that can throw themselves on the arm holding the baton (this is not the case with Romanian dogs).




A very good product is the ASP 21 INCH TELESCOPIC Stick.

for example here


Protect yourself… FROM INSECT STINGS (Mosquitoes and other bites)
MOSQUITOES AND HORSE FLIES
Mosquitoes and their bites are at the very least unpleasant, and at worst frightening.
Some skins (including Martin's) are particularly attractive to these cursed diptera.
Natural or the least chemical solutions such as lemongrass would be the most desirable… but they are most often ineffective with mosquitoes (ALWAYS ineffective with horseflies). You have to know what you want and make up your mind, the only REAL protection is CHEMICAL.
After using all kinds and brands of them, we found the FATAL WEAPON.
This weapon is from the brand INSECT-ÉCRAN. The most extreme protection is obtained by the combination of 2 different products (ammunition?):
INSECT-ÉCRAN VÊTEMENT

"SOLUTION DE TREMPAGE" version to treat all clothes (bike, city, bedding) before leaving
SPRAY version to regenerate protection if the trip lasts several months.

INSECT-ÉCRAN PEAU (repellent), in ZONE INFESTÉE version or SPÉCIAL TROPIQUE version, depending on the geographical destination (see brand tip page)
Since our discovery of these products and their use (in 2012) we have hardly ever been bitten again.
Before 2015 we used exclusively the Skin Repellent. In 2015 we feared to find the limit of these products in Scandinavia with their dreaded and numerous mosquitoes. So as a precaution we added the garment dipping. In the end, the soaking of clothes is the essential basis. The use of skin repellent was only necessary twice.
The result was 2 tiny bites after THREE months of cyclo-camping (bites on the only 2 extreme days when we immediately and successfully applied the skin repellent). We even thought that this year was a mosquito-free vintage. But our conversations with the locals or the hikers confirmed to us that our uninjured skin was indeed linked to the effectiveness of our protection. They were severely bitten every day, not us!
In 2016 we have seen the remarkable effectiveness of the INSECT-ÉCRAN PEAU (repellent) against horseflies. One morning while driving we were literally assaulted by horseflies, more than ten each! We stopped immediately. With one hand we tried as best we could to prevent them from setting up for the feast, and with the other we took out and used the bottle of INSECT-ÉCRAN PEAU repellent. As soon as the product was applied on our limbs and on the nape of the neck, we were finally rid of it. Fantastic!
It should be noted that Peau Zônes Infestées Repellent also boasts to repel flies, ticks, ticks, bugs and fleas. In our experience this is true for flies, less so for ticks.
Women are particularly vulnerable to ticks when they are squatting in the wild. And it is not advisable to apply repellents so close to the mucous membranes. See next chapter - Ticks - on this subject.
TICKS
TICK-BORNE ENCEPHALITIS ? Futur scandale

As described opposite, until the scandal of 2016, France totally ignored Lyme disease. It was falsely assumed that only countries east of France (Germany and beyond) were affected.
The exact same speech is found for Tick-borne Encephalitis. The maps defining the geographical areas affected by these 2 diseases were EXACTLY the same until 2015 !!! Without being clairvoyant, we can foresee the same scandal in a few years for this encephalitis.
This other tick-borne disease is also a fearsome one: "The infection can cause an influenza-like illness, followed in about 30 percent of cases by high fever and signs of central nervous system damage. Encephalitis that develops during this second phase can lead to paralysis, permanent sequelae or death."
A tip: get vaccinated against Tick-borne Encephalitis! (the ayatollahs of anti-vaccination will be left to their excesses and their reckless risk-taking).
Ticks are nasty bugs that transmit dreaded diseases such as Lyme disease and Tick-borne Encephalitis.
These diseases are known and correctly diagnosed in Europe.… but not in France. We discovered it in 2012 during our preparations for our departure to Hungary. As recommended on the travel sites we had been vaccinated against Tick-borne Encephalitis.
At the time, we thought that Lyme disease did not exist in France. But in 2016, following actions of associations of victims, we discovered that France is just as much concerned by this disease… except that the French medical system does not know how to diagnose it and so many people are seriously affected and handicapped by the very heavy consequences of this disease.
Unfortunately, there is still no vaccine against Lyme disease, but there is a vaccine against Tick-borne Encephalitis (see box opposite).
In any case, after passing through wooded or risk areas, it is advisable to have the skin inspected by someone else every evening. And this up to the private parts.
T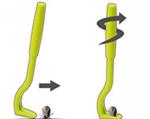 o get rid of the ticks on his skin:
GO-GIRL (tick avoidance for women)
Women are particularly exposed to ticks due to their squatting position when urinating.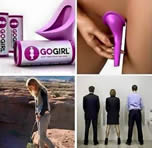 Well there is a perfect solution to avoid this risk: THE GO-GIRL
It's a "Standing Piss" among others, but the GO-GIRL is the BEST:
Very comfortable
Easy to use
Very hygienic
Tightly sealed, no leaks.
The only precaution is to contain the flow a little if the urge is VERY strong. Otherwise the flow rate will be higher than what the GO-GIRL's outlet pipe can handle.… and it'll spill over at the entrance!
To promote a more natural and less constrained flow it is possible to cut the end of the outlet pipe. This end is in fact unnecessarily restricted.
Beyond its use in the wilderness, the GO-GIRL is also very practical for urinating in malfamous toilets with limited hygiene !
See also URINATE DURING THE NIGHT IN THE TENT AT THE CAMPSITE.
VARIOUS BITES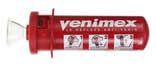 Venom pumps are not only useful in the extreme and rare cases of snake bites. For insect bites (mosquitoes, horseflies, wasps, spiders…) the use of such a pump greatly reduces the irritating and stinging effects, which otherwise can last for several days.
After using multiple venom pumps over the years, the best we have found is the brand VENIMEX. It is powerful and can be used with one hand.