CONVENTIONAL BIKE (QUALITY) IN CYCLO-HIKING
On page What bike in cyclo-hiking? we have reviewed the criteria for choosing the type of bike and the main technologies.
Here are described the Conventional Bikes with which we cycled from 2012 to 2016.
THE RESEARCH
We have been warmed by our experiences in pas-chery and have started research in 2010-2011 in order to orient ourselves towards quality.
Then in 2012, moving to a period of life (retirement) where we will practice even more our leisure of cycling, we decided to treat ourselves and move to the category of comfort and performance frankly superior.
We wanted to find a bike that was fully designed from the ground up for touring. This is not an easy task, as the market is mainly full of road cycling solutions (cyclo-sports competition mode).
The key points of our specifications for cycle touring bikes were :
KEY POINT
POSSIBLE TECHNICAL SOLUTION
High-performance suspensions :

Significantly increase comfort.
Can be disengaged for smooth track sections like a billiard table.
Easy adjustment of the suspension hardness.
To have the whole load suspended (us, but also ALL our bags).

Dependent on the geometry of the bike and the components used.

Efficient transmission by removing the derailleurs and replacing them with a mechanical multi-speed gearbox.

Cycling requires:

a large enough number of speeds for a good graduation of development
a minimum-to-maximum ratio sufficient to climb the steepest hills when heavily loaded.

The gearboxes on the market are (were in 2012):

SRAM with its 9-speed i-Motion and 340% ratio
SHIMANO with its 11-speed Alfine and 409% ratio
ROHLOFF with 14-speed Speedhub and 526% ratio

The only one offering the correct number of gears, an even gear spacing between all gears and a ratio almost equivalent to a 27-speed derailleur system (3 chainrings, 9 sprockets) is the ROHLOFF.

On a derailleur system not all combinations of gears are possible, as otherwise the chain is crossed and this is detrimental to the entire transmission. Therefore a 27-speed derailleur (3x9) has only 14 gears that can actually be used.

Efficient braking in all conditions and circumstances, even in the rain and mud.
Hydraulic disc brakes.
Built-in dynamo so you don't have to lug batteries and charger with you during the rides.
Dynamo SON, high performance allowing the lowest resisting torque on the market.
No French brand is present on this type of equipment.
In 2012, several European brands: Thorn, Roberts, Koga-Miyata, Bruce Gordon, Fahrrad Manufactur, German Cycles… offer unsuspended models. Two brands, German, offer CYCLO-HIKING bikes with full suspension adapted to our CdC: RIESE & MÜLLER and TOUT TERRAIN (Panamericana).
TOUT TERRAIN was a little more expensive with technical justifications that didn't convince us (steel frame and inverted geometry front suspension). Our choice was therefore RIESE & MÜLLER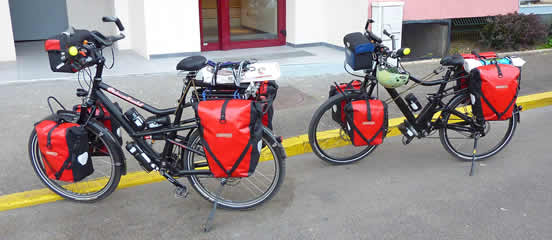 En prenant une image de l'univers automobile, on peut dire que venant de nos anciens B'Twin customisés, nous sommes passés d'une RENAULT à une AUDI…

GENERAL DESCRIPTION
| | | |
| --- | --- | --- |
| INTERCONTINENTAL-Extreme | | DELITE-Traveler-ROHLOFF |
| | | |
| | | |
The INTERCONTINENTAL model is no longer manufactured in 2012, it is replaced by the DELITE-Traveler-ROHLOFF.

Update februar 2015 : it's over, these models disappear, RIESE & MÜLLER specializes in EAB.
The nearest conventional bike is definitely the TOUT TERRAIN Panamericana Rohloff
COMPONENTS
ROHLOFF Speedhub 14 speed gearbox.

Pneumatic shock absorber MAGURA MX

Shock absorber fork MARZOCCHI CORSA TST2 AIR

Hydraulic disc brakes SHIMANO DEORE XT M775

Rim RITCHEY MTN Pro Girder XC, 26 inches, 32 holes (spokes)

Tires SCHWALBE MARATHON PLUS TOUR [ETRTO 50-559 (26" 2.00)]
reputed to be almost UNCREVABLE… and it's true!

Front dynamo hub SON 28 KLASSIK K179
(Schmidt Original Nabendynamo)

Lightning BUSCH-und-MÜLLER
Front Lumotec IQ Fly T Senso plus
Rear TopLight Line plus




Front luggage rack FAIV
APPRECIATION
These bikes are simply FANTASTIC…
The most important qualities are detailed below…
ROHLOFF
See special page ROHLOFF.
COMFORT - RIDEABILITY
THE COMFORT. We had read on a German test bike site that they were comfortable bikes in all circumstances. Our first ride with them, the Tour de Bourgogne, took us through all types of tracks: asphalt, big stones, small stones, potholes, off-road. Everywhere we are at ease and comfortable with these bikes.
If a portion of a stage is only smooth asphalt like a billiard table we can block the suspension.
If we know that a stage will be varied but mostly of a certain nature (smooth or on the contrary bumpy), we can in 2 minutes, at the start of the stage, change the pressure setting of the shocks.
If we pedal on a rest day, therefore without panniers, we can deflate the shock absorbers to keep the same level of comfort as usual. Otherwise the suspension would then be very stiff.


THE RIDEABILITY. Before use we were afraid that the comfort of the big tyres (26" 2.00) would make us lose rolling ability on asphalt. Not at all, the SCHWALBE tyres work wonders, they are very comfortable, grip very well on all kinds of terrain and are very smooth on smooth asphalt.
BRAKING
In the past we considered hydraulic disc brakes as a superfluous mode. The test surprised us very pleasantly (and powerfully!). Their use convinced us fully. They are amazingly powerful and progressive. From our first ride with these bikes (Tour of Burgundy in April 2012), in extremely rainy conditions, we particularly appreciated the maintenance of the braking power in the rain.
With rim brakes (V-Brake or others) when passing through a pocket of mud, the following braking is strongly disturbed by the mud which makes lubricant and prevents a braking worthy of the name. Moreover, this mud, pressed under the brake pads, causes accelerated abrasion of the rims (worse with sandy mud). With disc brakes, no more worries.
SYNTHESIS
In use there is a great balance between all the qualities of these RIESE & MÜLLER, it is really a lot of PLEASURE.