E.BIKE for CYCLO-HIKING - E.Bike R&M HOMAGE TEST
This page describes the E.BIKES we have been riding with since 2019.
On page What-bike-in-cyclo-hiking? we reviewed the criteria for choosing the type of bike and the main technologies. We explained why we switched to E.Bike sooner than we thought.
OUR CHOICE
Our previous bikes were RIESE & MÜLLER Classic Bikes. This German manufacturer has totally switched to the world of E-Bikes in 2014. So and considering our total satisfaction with these previous bikes, the obvious thing for us was to remain faithful to them. And therefore to search if we could find in their current range a model adapted to our bike tours.
In all cases we wanted to find the previous winning technology choices:
All air-suspended
Hydraulic disc brakes
ROHLOFF transmission
At first glance a suitable model could be the DELITE. But the frame span height was a little higher than our current bikes. In order for these bikes to last us for a long time, we need to be able to continue to straddle them in the years to come by losing a little body's flexibility!
So the really appropriate model jumped out at us: the HOMAGE. And, transmission obliges, it is thus the HOMAGE GX ROHLOFF that caught our attention.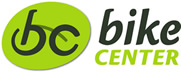 After a favourable analysis of all its characteristics, we have analysed all the tests published on the Web. Then we looked for a store. Contrary to 2012 when we had to look for a dealer of the brand far from our home at the time, we now have one at home, in our good city of Nantes. It is thus at BIKE-CENTER that we went at the end of 2018 to do a test. This excellent velocist, RIESE & MÜLLER dealer is totally and exclusively specialized in E.Bike. They have an impressive choice of makes and models; in addition to a large number of test models.
BIKE-CENTER didn't have HOMAGE model in stock or demo, but they had NEVO and CHARGER. The focus of our test being the BOSCH motorization, it suited us perfectly.
Convinced, we placed an order for delivery in early 2019.
RIESE & MÜLLER - HOMAGE GX ROHLOFF
The standard composition of these bikes is as follows:
Engine: BOSCH Performance LINE CX
Dual-battery:

One battery IN the frame: BOSCH PowerTube 500
Another battery ON the frame: BOSCH PowerPack 500

Display

BOSCH

Intuvia
Fork SUNTOUR Aion 34
Shock absorber X-FUSION O2
Gearbox ROHLOFF Speedhub E14, 14-speed (see special page )
Carbon belt drive GATES belt drive CDX
Brakes MAGURA MT4
Tires SCHWALBE Rock Razor 60-584
Lights SUPERNOVA M99 Mini Pro-25
BIKE-CENTER, very attentive and professional, listened and understood our requests and replaced for us:
The display

BOSCH

Intuvia with a BOSCH Kiox, more efficient and above all, advantage for us, more compact in width.
The stem with an adjustable stem
The tires SCHWALBE Rock Razor with SCHWALBE Marathon-Plus-MTB 57-584 (27.5" x 2.25", 650B), much more resistant, because from the puncture-proof flat-less range.
DETAILS OF SOME COMPONENTS
The total power of the batteries amounts to 1,000 W (2 x 500 W) allowing a very good autonomy, even when heavily loaded.
No chain, but a toothed belt. Guaranteed maintenance-free during cyclo-hiking.
ROHLOFF electrically operated. No more cable twist grip, but a double knob on the handlebar.
Dual-function lamp low-high beam (like a car) with handlebar control.
Tail light with brake light, controlled by the 2 brake handles.
Wheels 27,5"
ADDITIONAL ITEMS
We've added to it:
Real horn instead of the cheap original buzzer

Airzound 3, air horn (see page be heard)
USB recharged electric horn.

Our usual comfortable ISM TOURING saddles. A specific page is dedicated to this essential piece… Sitting - Saddle.
Front luggage rack FAIV.
EXPERIENCE - QUALITIES - DEFAULTS
As explained in the introduction we have been RIESE & MÜLLER fans since our first purchase in 2012. With our old INTERCONTINENTAL AND DELITE classic bikes we have never stopped praising them all the time and everywhere for their fantastic qualities. Our page dedicaced to these model is an example of this. Our satisfaction with the use has been total and without limit.
We have therefore confidently switched to E.Bike mode with RIESE & MÜLLER. We have approached our GX ROHLOFF HOMAGE with totally favourable and benevolent a priori.
FIRST PROBLEM - DELAYS
We placed the order in early December 2018. At that time RIESE & MÜLLER was moving from its too small factory to a new, larger one. The brand is very well known in Germany. Now it wants to export much more.
As a result, the entire production was stopped for several weeks. During this break all the orders were put on a waiting list with a date incrementing with the orders received by them. BIKE-CENTER showed us the computer screen where they entered our order into the RIESE & MÜLLER computer system. The LONG but precise deadline was announced. It was clear and neat, well tucked in. For safety reasons BIKE-CENTER had nevertheless preferred to take a safety margin by notifying us a later deadline, namely week 8 (2019), between 18 and 22 February.
But the reality was completely different. RIESE & MÜLLER did not meet its deadlines at all. But worst of all, it was a succession of postponements. Each postponement was subject to a new deadline… which was never met.
Before being able to benefit from our bikes we had to wait… a long time… with several weeks late for my bike (March 13), and several months late for my Darling's bike (May 9).
All this without any explanation or apology from RIESE & MÜLLER. This is not very qualitative, nor respectful of the customer!
BIKE-CENTER explained to us that, unfortunately, this behaviour is recurrent with RIESE & MÜLLER.
This is probably an old habit. Indeed, in 2012, when we bought our first R&Ms, we had already suffered a big delay. This while the factory was running normally. It should be noted that in 2012 as in 2019, R&M has NEVER given any explanations or excuses! This is not very qualitative, nor respectful of the customer!
BIKE-CENTER has been very supportive. But it was a big disruption for us, as we were not able to do the training rides we had planned in the spring.
QUALITIES
As soon as my HOMAGE was delivered I was able to take advantage of its important fundamental qualities. Then my Darling was able to accompany me and we enjoyed everything together:
Even more comfort than our old bikes. Larger wheel diameters and tires are a must!
An even tastier ROHLOFF with its electric drive. It was a marvel. Now, it's a super marvel.
MAGURA braking at its best. Less powerful on the attack than our old Shimano brakes (Deore XT M775); but in fact more progressive and with as much power in the end.
Discover the qualities of the BOSCH motorization with its electronic regulation at the top and its 4 levels allowing to adapt to the desires of the moment and to the reliefs which arise.
With our pre-summer hikes, on a total of 3 to 400 km, everything went perfectly. The joy of riding RIESE & MÜLLER bikes continued in E.Bike mode.
Then our 2 hikes in the summer of 2019 (837 and 1,140 km) allowed us to confirm the first qualities described above. Moreover they made our doubts about the autonomy announced by BOSCH totally disappear. The mileage announced at full load are there. You can really trust their Range Assistant.
While driving around, unloaded with luggage, you can drive in ECO mode at 22 km/h :
240 km, with isolated coastlines, on poor quality roads and moderate winds
187 km, with hilly terrain, on a dirt road and moderate wind
148 km, with medium mountains, on dirt road and strong wind
97 km, with mountain trails, dirt roads and strong winds
Heavily loaded in cyclo-camping hiking, you can do in TOUR mode at 22 km/h :
160 km, with isolated coastlines, on poor quality roads and moderate wind.
123 km, with hilly terrain, on a dirt road and moderate wind

97 km, with medium mountains, on dirt road and strong wind
82 km, with mountain trails, dirt roads and strong winds
With the FAST-CHARGER BCS250 of 6 Amperes the recharge takes 3 hours to go from 0 to 100%. That is to say 3 hours to recharge the 2 batteries which are 50% discharged. It is very fast!
These bikes are therefore VERY FRIENDLY and VERY PERFORMING.
However, several dark clouds appeared in this idyllic picture.
DEFAULTS DURING THE FIRST SUMMER HIKE
During the summer of 2019 we did two hikes, the first of 837 km.
BOSCH ENGINE FAULTS

On the second day my E.Bike engine started making strange noises episodically. There was like a hoarse cicada in the engine. Distorted screams were emitted when the pedals were pressed, so when the assistance was active. As the days went by, this became more and more frequent, until it became almost permanent.
Then my Darling's E.Bike did the same. We came back very disappointed and immediately went to our cyclist's house with our bikes. On the spot nothing happened. No shouting! I understood immediately why… not enough weight on the bicycle. Back at BIKE-CENTER with 4 bags heavily loaded with ballast… the test was immediately conclusive… the cicadas were still in the engines. We had to have a weight close to the one we have in cyclo-camping mode.
So return the engines to BOSCH for immediate replacement under warranty.
Our bicycle seller thinks (without being sure) that when BOSCH has such a problem with a very busy bike context, they send back an engine with modifications (hardware? or software?) likely to solve the problems.
Anyway, when we set off again, still as loaded as ever, for our second summer hike (1,140 km), we had no more worries… on that side !
Through web searches, I learned that there were quite a few cases of BOSCH engine failures. Digging into the details, many experienced cyclists argued that BOSCH was by VERY far the largest manufacturer of E.Bikes engines. So even with the same percentage of failures as its competitors, because they produce many more engines than their competitors, they necessarily have a higher number of cases (in absolute values).
However, what is a little worrying is the simultaneous occurrence of this defect, after the same mileage, on our bikes. A production defect that exists, okay. But two bikes leaving the factory more than a month apart should have little chance of being part of the same production batch. That's curious.
So it is difficult to form a definitive opinion on the subject at the moment. Let's hope this is definitely resolved… to be continued…
SUPERNOVA LIGHTING FAULT
In addition to the engine, the SUPERNOVA front light was partially defective. Once turned on, it remained in low beam mode, refusing to switch to high beam mode.
As soon as you get back from your cyclo-hike, BIKE-CENTER had the headlight changed under warranty by RIESE & MÜLLER.
This VERY powerful light has COB LEDs. I dare to hope that the COB components used by SUPERNOVA are of good quality. Because I had the experience at home. The COB type noname (no brand) LED bulbs only lasted less than a year. Replaced by branded bulbs (Osram, Philips) there are no more worries. As before, more to follow…
OTHER DEFAULTS - DESIGN DEFAULTS RIESE & MÜLLER
VERY FRAGILE BAG SPACER FLANGES
In the summer of 2019 our second ride took place in our cycling paradise: in Germany. One day we were at a stop for a break. Our bikes were resting on their crutches near a small embankment. A strong gale of storm wind knocked our bikes over. My Darling's bike lay on its side and fell on the embankment.
The bike was fully loaded with its 4 luggages bags. So there's no risk of any part of the bike hitting the ground. It's the luggages bags that serve as airbags, shock absorbers.
It wasn't a bad thing, it had happened several times on hard and flat ground with our old bikes since 2012. So we weren't worried. The angle of fall was low, because the slope was steep.
Except that the side flange of the luggage rack (the part that prevents the lower part of the bag from getting closer to the wheel) was DEFORMED. The side flange of the luggage rack (and thus the bag) was now closer to 4-5 cm from the wheel !!!
Huge and very unpleasant surprise. Why was there NEVER any problem with our old INTERCONTINENTAL or DELITE models, with harder falls? And that, there with a slight fall, it resulted in a permanent deformation on the HOMAGE.
It's actually quite simple. This is due to an incomprehensible design regression by RIESE & MÜLLER:
The lateral flanges of our old classic bikes had double-cantilever:

Top cantilever, with hard embedments on the luggage rack.
Bottom cantilever, with sets of tierod joints between the lower lateral flange and the arm of the rear wheel.

On all the new models there is NO cantilever (NO embedments, NO tierod joints).
And the lateral flanges are content to be an unfortunate little tube that only wants to bend even more at the slightest constraint. And worst of all, the front part of this cheek tube ends with a crush-fold (#45°). Obviously this bending is an important deformation.
The error of absence of tierod joints is a failure to comply with the most basic level of mechanics, of the Theory of Strength of Materials:
Previously, with the tierod joints, the lateral flanges were supported up and down. Up on the luggage rack, down on the rear wheel arm. This arm being particularly rigid. This double cantilever support made that the flange was in flexural strength mode as "Beams Fixed at Both ends" (1 embedments at each end or 1 cantilever at each end).
Now, without the tierod joints, the lateral flanges only have a high support on the luggage rack. This simple support is defined in flexural strength mode as "beam fixed at one end" (1 embedded at one end or 1 cantilever at one end). The another end is free.
The resulting difference in deformation is enormous. And we prove it by calculation. Let's imagine that we can dismantle the tierod joints of the old Classic DELITE. And let's calculate the deformations in both cases, with and without tierod joints. Opposite, in picture, the mathematical formulas. And below their application:
With 1 cantilever (without tierod joints) the formula is Y = - (F . L³) / (3 E . IGz)
With 2 cantilever (with tierod joints) the formula is :
Y = - (F . L³) / (192 E . IGz)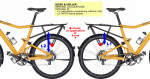 When applying the formulas, the difference in length of the beam must be taken into account depending on the model with or without tierod joints: if L1 is the length in version 1 cantilever (without tierod joints), then L2 (version 2 cantilever with tierod joints) is approximately equal to 2 x L1.
Let L2=2xL1.
After simplification of the compared formulas, we obtain the deformation ratio which is (L/3) / (2L/192), i.e. 3/96.
The difference in deformation on a DELITE with or without tierod joints is therefore in the ratio of 3 to 96, i.e. 32 TIMES more important by removing the tierod joints.
And again, we have calculated here simply "with or without tierod joints", but in both cases with the same quality fittings. But on the HOMAGE it's much worse. The lateral flanges of the HOMAGE have almost no embedding (cf. crush-fold described above). So the deformations are much more important there.
But moreover on an old DELITE without tierod joints the deformation would have returned to zero, once the effort (linked to the fall) disappeared. But on the HOMAGE the stress exceeds the resistance capacity of the metal. The important deformation is permanent. In the Theory of Strength of Materials we call this "exceeding the elastic deformation limit" (where the object returns to its initial shape), and passing into the "plastic deformation zone", where the object remains deformed once the stress has disappeared.
In order to remove the tierod joints without too many negative effects it was necessary :
Keep strong cantilever for the assembly of the lateral flange with the luggage rack.
To enormously strengthen the tube forming the flange.
With such a reinforcement, it would have been less resistant than with tierod joints, but it would have been better than nothing.
But in the reality of HOMAGE:
There is almost no embedments at the top at the junction of the luggage rack…
The tube has not been reinforced, but rather lightened.
So the misery of the deformities was inevitable.
Even a trainee technician would be aware of the problem. Such an error on a first price bike would be abnormal enough. This is a German-made bike. Which is a reference, and rightly so. The quality in general and the mechanical know-how of Germany is not just an image. It is a reality which is at the base of Germany's industrial success. In addition RIESE & MÜLLER openly claims to be the most expensive, because the best (see its statements in the conclusion at the bottom of the page).
Has a decision-maker in aesthetics had the last word on all the most basic technical arguments?
If so, it would mean that RIESE & MÜLLER is taking the path to imitate Apple. With its computers, Apple is making machines that are more and more expensive… and more and more fragile. Always more fragile because they are always thinner and lighter to be always more finely aesthetic. It's already unreasonable for computers, but for off-road outdoor equipment, that would be aberrant !!!
Unfortunately we could not realize this critical point before placing the order, because the HOMAGE was not being tested at BIKE-CENTER.
In any case, whatever the reason, cost savings or aesthetics take precedence over functionality, it doesn't matter. On off-road bikes of this price it's indamistible and unbearable.
BAG HOOKING TOO HIGH
With bikes equipped with rear suspension the luggage rack is higher than normal. In fact, despite the suspension travel, the wheel must not hit the underside of the luggage rack. So the luggage rack is raised. This is detrimental to the static and dynamic balance of the bike, because luggage bags are hung very high, resulting in a higher overall center of gravity.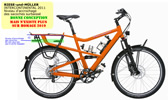 On my old RIESE & MÜLLER INTERCONTINENTAL classic bike (bought in 2012, but produced until 2011) my luggage rack was VERY well designed. There were horizontal bag hooking bars 80 mm lower than the luggage rack. Considering that the suspension travel and therefore the level of the luggage rack is 100 mm more higher, the level of carrying was going down to a very correct level.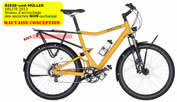 On the other hand already at that time, there had been a regression for the RIESE & MÜLLER DELITE of my Darling (produced and bought in 2012). Indeed there were no more horizontal bars to hang the luggage bags. So the bags were very high. With a barycentre shifted upwards.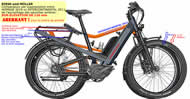 At that time our bikes were 26" wheel size. But in line with the new trend, our VAE 2019 bikes are equipped with 27.5" wheels.
And unfortunately, on our HOMAGE, RIESE & MÜLLER has maintained its regression initiated in 2012, no low grip of the bags. So, with the 27.5" wheels, we find ourselves with bags hanging even higher. They are raised by another 40 mm. Compared to the INTERCONTINENTAL (last well-designed model in 2011) the bags are 120 mm higher. This is enormous.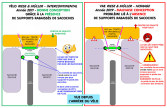 In addition to the too high center of gravity we have a second big disadvantage. This is that any load placed across the luggage rack (like a tent bag) weighs on the top of the luggage bags. So the bag hooks (which are only designed to support the bags) have to bear the weight of the bag across AND the pressure of the tensioners that hang the bag in question. All this is an abnormal overload of the bag hooks, with the risk of the hooks eventually breaking.
See the explanatory diagram opposite.
Historically RIESE & MÜLLER knew all these problems and knew how to solve them, but they don't do it anymore !!! Dark and aberrant economy? Aesthetics before functionality? What do they think?
BATTERY COVER PLATE SLAMMING
After about 1,000 km, during our German 2019 hike, a new noise appeared. At the slightest jolt, there was a constant rattling sound. This produced a very unpleasant pan noise!!!
In fact it was simply the cover for the Power-Tube battery located in the frame. This cover has a very small foam coating on the inside which is necessarily present to avoid this kind of noise.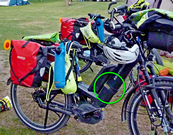 But the problem is that this foam is very thin (too thin) and probably too soft. And since this plate has the second PowerPack battery on its back, it produces compressive forces by pressing in the middle of the closing plate. And the foam ends up compressing, and you get a pot show !!!
So far, the only solution to stop this mess has been to belt the frame and the plate in question with a tight Velcro strap.
This is not Deutsch-Qualitat at all!! What does Riese & Müller intend to do?
OTHER PARTS - PARTS FAULTS
By "Other parts" we mean what makes up the bike, what is assembled with it to finish the bike.
These are usually parts or accessories of other brands.
MUD FLAP
No mud flaps are installed on the mudguards. Already on a city bike this is not useless. But here we are with a bike designed to go in the wilderness. It's all suspended, it's not to ride on the beautiful tarred roads. We ride over all terrain, with puddles of water and mud. So a front mud flap to protect your feet, and a rear one to protect your travelling companions, it's more than useful, it's indispensable.
Should we imagine once again that bibs would not be aesthetic enough? What about the functional?
CHARGING PLUG SHUTTER

The shutter of the electrical charging plug is made of soft rubber. It opens easily. However, to close it again, you have to snap its lug into the connector and it is, each time, the head plug. The closing is only obtained after having groped for a certain time to insert the damned lug.
This is a very small detail, but it's very annoying… especially (once again) for a bike of this price.

SADDLEPOLE
Our bikes were delivered several weeks late for me, and several months late for my Darling.


In spite of this my bike did not have a completely satisfactory seatpost. Indeed the seatpost of my Darling's bike was perfect with a total possibility of adjustment in inclination backwards AND forwards.
On the other hand, the one on my bike was of a simplified model, which could ONLY be adjusted backwards.
Detail one might think. Well, it isn't!
We are equipped with ISM saddles (prostate or vulva protection). We asked our reseller BIKE-CENTER to adjust our new E.Bikes like our old classic bikes. They adjusted our saddles as close as possible to what our respective seat posts allowed. The problem is that my historical saddle adjustment was tilted several degrees forward. So my saddle ended up at the adjustment stop, horizontally.
At first I didn't realize anything during our first summer hike. Then a few weeks later, during our 2nd hike in Germany, I suddenly had (cumulative effect) pain in my left inner thigh, near the groin. Pain rising until I could no longer pedal. That's when I noticed the difference in adjustment and especially the impossibility to adjust the forward inclination.
I thought about switching our 2 saddlepole, since my Darling has its horizontal adjustment. But this was impossible, because her saddlepole was too short. This is because her frame is smaller than mine.
I thought the hike was gonna be stopped. Impossible to find at German dealers (100 km away), nor on the Web a saddlepole in the right size. Indeed our bikes are equipped with 34.9mm diameter saddlepole. And this new standard is still very rare. Luckily I found at a dealer a saddle that is about right. Only because although it was sold to protect the prostate, it was not as effective as the ISM saddle. Adjusted (max forward, always horizontal!), it allowed me to avoid contact with the hyper-painful point of my thigh, and thus to continue and finish the ride. But because it had a saddle nose (unlike the ISM saddle) I ended the ride with prostatitis!
All this ridiculous mess because RIESE & MÜLLER didn't put a fully adjustable seatpost (Rear + Front) on my bike from the beginning. When we got back BIKE-CENTER had to insist with R&M to get a fully adjustable seatpost. R&M n'a cessé de dire que c'était inutile.
FRONT LUGGAGE RACK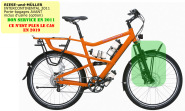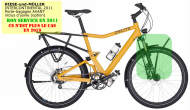 In 2012, when we bought our RIESE & MÜLLER INTERCONTINENTAL and DELITE, they were delivered from the factory (optional) with the very strong front luggage racks of their German colleague FAIV.DE. Which is a reference in quality front luggage racks for touring cyclists.
Now nothing is offered anymore, even as an option. Whereas this HOMAGE model, like its cousin the DELITE (E.Bike), are the most suitable E.Bike for cyclo-hiking in the current RIESE & MÜLLER range.
It's a shame we can't have a complete original bike anymore. It's a detail, but high quality service is also that!
CONCLUSION
Manufacturing defects leading to failure always exist in any production. Zero defects only exist in theory for what is NOT produced. Engine and lighting defects fall within this framework. So the important thing is that these problems were solved quickly (thank you BOSCH and RIESE & MÜLLER)… and above all that they do not recur…
On the other hand, we find design flaws incomprehensible (even inexcusable). Especially on the part of a manufacturer who claims to be top-of-the-range, especially when these are design regressions. That is to say, when RIESE & MÜLLER has been able to do things correctly in the past, but no longer does. Mention is made here of the overly high hanging of the rear luggage rack and the lateral flanges which are very easily deformed; as explained earlier on this page.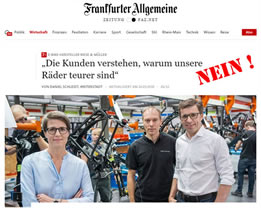 In an interview by Daniel Schleidt, published in the Frankfurter Allgemeine on September 24, 2018, RIESE & MÜLLER managing directors Markus Riese, Heiko Müller and Sandra Wolf (wife Müller) stated :
"Die Kunden verstehen, warum unsere Räder teurer sind", that is to say in English
"Customers understand why our bikes are more expensive."
Yes it is very pleasant to ride these bikes, they have immense and undeniable qualities. But at the price we pay for them we can claim to get perfect bikes, or at least bikes without design flaws. This is not the case.
So the answer is "NEIN," "No." We, the customers, do not understand this price with such design flaws, from a leader who wants to be the best of the best!
In the end, we are surprised that RIESE & MÜLLER does not take advantage of the sponsorship they have been doing for years for the benefit of the super-adventurous hikers-adventurers Tanja and Denis Katzer. Especially since 2015 when they have been equipping them with E.Bike. RIESE & MÜLLER has concocted improved versions of the VAE-DELITE for them. They travel more than 10,000 km per year. They are heavily loaded… 150 kg per bike all inclusive. So there's a lot of feedback to offer little hikers like us bikes that are beyond reproach. In these conditions, why do our VAE-HOMAGE bikes have such a weakness in the luggage rack? What does Riese & Müller think?