GENERAL DATA
Country
Departures
Arrivals
Tracks
Distance
Year

FRANCE

Nantes

Nantes

Loop itinerary in Normandy and Brittany. Via 'Loire à vélo', 'VéloBuissonnière', 'VéloScénie', 'VéloFrancette', 'VéloMaritime', 'Monts d'Arrée', 'Rosporden-Châteaulin' and 'Canal de Nantes à Brest'

Realized : 2,013 km
(with detours to campsites, walks and visits)

Full theory: 2,000 km

2021
CONTEXT
We had planned our summer 2021 to cycle in Germany and the Czech Republic. But due to the uncertainties of opening/closing borders with the COVID, we preferred to stay in France.
Our loop was not complete (missing 205 km theoretically). A technical problem with the bike meant that we had to stop for about ten days to repair it. As a result we skipped the section between Pont-Farcy and Saint-Malo.
Kilometres :
Realized 2 013 km
Theoretical (without the Pont-Farcy - Saint-Malo section) 1 794 km
Theoretical complete 1 999 km (1 100 km in Normandy and 899 km in Brittany)
This is a sportive (physical) cyclo-tour in its Breton part. Details of the terrain:
| Section | Distance | Elevation + | m/km |
| --- | --- | --- | --- |
| Loire à Vélo | 158 km | 710 m | 4,49 |
| VéloBuissonière + Véloscénie + VéloFrancette | 524 km | 4 710 m | 8,99 |
| VéloMaritime Normande | 356 km | 2 943 m | 8,26 |
| VéloMaritime Briton (North Brittany coast) | 374 km | 5 204 m | |
| Monts d'Arrée until Rosporden (Morlaix - Rosporden) | 135 km | 1 318 m | 9,76 |
| From Rosporden to Châteaulin | 49 km | 768 m | |
| Canal de Nantes à Brest (Châteaulin - Nantes) | 417 km | 3 088 m | 7,40 |
| TOTAL | 2 013 km | 18 741 m | |
SOURCING

:
| | | |
| --- | --- | --- |
| MAPS | | ACCOMODATIONS |
| | | |
FEEDBACK OF EXPERIENCE
Unfortunately, France is lagging behind other European countries in terms of cycling (as in many other areas). This delay is heavy in many regions which are under-equipped.
We will see that this has been well marked in our 2021 journey.
LOIRE À VÉLO
The 'Loire à Vélo' route continues to be improved little by little. During the winter of 2020-2021, the bridge at Mauves-sur-Loire underwent a complete overhaul. Two bicycle bridges have been added. One on each side, on either side of the existing road deck. This is great.
You should know that road bridges that are not equipped for bikes are still the big black spot on the Loire à Vélo, even though this route was launched 26 years ago (1995)! Moreover, as one of many examples, the bridge at Oudon is not equipped, even though the traffic there is much heavier, and at higher speeds, than at Mauves.
SARTHE
In the Sarthe the Vélobuissonière is very nice and the Alpes-Mancelles are absolutely superb. The infrastructure is not top notch, but with relatively few pitfalls.
NORMANDY
CALVADOS
In the department of Calvados there is the greenway 'la Suisse Normande'. This is the ONLY TRUE GREEN WAY that we have enjoyed on our entire route. It is of European standard, and its construction is magnificent and exemplary. The chicanes placed at road crossings are remarkably well-designed (this is unusual in France). They clearly indicate the slowing down to be done without ever hindering the passage of cyclists, whatever their size: tandems, recumbents, bikes with trailers, heavily loaded bikes (like us). Everyone can pass in safety but without having to put their foot down if it is not necessary due to the absence of cars on the crossing road. Many tables and benches are available. Travelling bikes and commuter bike really do have a perfect world.
On the other hand, in this same department, there is a great deal of room for improvement on the Channel coast, particularly between Ouistreham and Courseulles-sur-Mer. There we often find ourselves mixed up with pedestrians. Sometimes there is a small path theoretically reserved for bicycles, but the widths are so ridiculous that pedestrians completely invade the passage.
MANCHE
In the Manche department there are alternating small roads and farm tracks. The latter are pitiful, especially with the weather in the summer of 2021. Lots of mud and potholes. The chicanes are stupid, even in the wilderness, where they have no reason to be… except to deliberately ruin the lives of the cyclists.
When you want to leave the VéloMaritime itinerary to go to an exceptional site like Utah-beach, the stretch of road that leads there has not a hint of cycle facilities, even though many families with children go there and the width of the roadside would allow for a cycle path. This is absurd.
On the other hand, the 'Greenway Rocheville - Carentan' is very pleasant and the 'Greenway la Vire' is a delight… EXCEPT that the latter has a small gravel surface. This is not seen anywhere else on EUROVELO routes abroad as it is obviously inadequate for the stability of the bikes in the bends and when braking. Furthermore, and above all, this Vire route has a MONSTRUOSITY!!! Before Tessy-sur-Vire (Tessy-Bocage), the greenway leaves the Vire to bypass the Moulin de Fervaches by climbing a hillside and becoming a miserable, VERY narrow and VERY steep path. The steepness of the slope, the narrowness and the lack of a surface (soil) mean that gullies wind along the path. This is a short but completely stupid and dangerous passage that should be reserved for mountain bikers. It is very sporty. Then we go back down to the Vire with the trail getting worse as it twists and turns with 3 extremely tight and steep bends. Fortunately we went through these twists and turns on the way down, because in the other direction it would have been almost insurmountable (heavily loaded). Tandems or bikes with trailers will probably get stuck there and will have to go around elsewhere.
BRITTANY
Brittany is very beautiful. Particularly the North Coast with its grandiose landscapes and magnificent colours. This North coast of Brittany lives up to its reputation… it's a sporty route due to the relief which provides a significant amount of positive elevation gain every day. We covered 374 km from Saint-Malo to Morlaix, with a total of 5,204 m of positive difference in altitude!
Some examples of delight :
Rance
Cap Fréhel
Perros-Guirec
Ploumanach
Trégastel
Cliff : Saint-Jean-du-Doigt and Plougasnou
Canal de Nantes à Brest between Pontivy and Malestroit (the rest is more ordinary).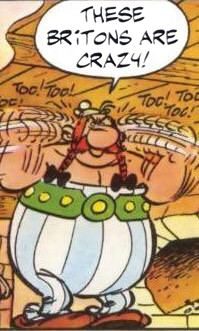 On the other hand, Brittany is true to its other reputation… the 'NO' and 'REFUSAL' to any kind of public infrastructure. The subjects of refusal are diverse and well known: power stations, motorways, nitrate reductions, windmills (!), rehabilitation of water treatment plants… etc. Well, we have discovered the 'No to cycling facilities' with great frustration.
Since 2005, we have been used to suffering the aberrations of bad infrastructures for bicycles everywhere in France (unimaginable in Europe, like in Germany, Switzerland or Holland for example). But in Brittany it's really the ponpon, they are champions! Apart from the Canal du Midi, we have NEVER experienced such an accumulation of various, varied, blocking and even dangerous traps EVERY DAY.
NORTH COAST
On the north coast (from Saint-Malo to Morlaix) there is not a single greenway. There are only small roads, which are nice, but interspersed with nasty, muddy and sometimes very steep and narrow paths and tracks. The small roads are sometimes marked with 'Share the Road' signs for cars. As everyone knows, these signs are rubbish, they do not change the bad behaviour of cars. The local authorities know this very well, but as good hypocritical cheapskates, they are satisfied with this because it costs almost nothing.
Even the signposting of the route is poor. Very often at crossroads the direction change signs are not planted on the lane you are about to leave, but set back on the lane you are about to turn into. Equipped with GPS and our route prepared, we never had any problems. But it is certain that many cyclists miss the changes of direction every day due to this stinginess… and therefore lose the route with extra kilometres.
Here are three examples of such debilitating situations between Paimpol and Tréguier

Example 1:
Example 2:
Example 3:
MONTS D'ARRÉE
In the Monts d'Arrée and more generally between Morlaix and Rosporden there is the green way of the old railway… but it is a dirt road (therefore muddy with the weather of summer 2021) and which comprises many holes (potholes). In front of each puddle, the existential question is "drowned hole or no hole?". So in order not to risk bursting your rims or tyres, it's better to take a swerve… if you can! Because when you pass other cyclists, you can't swerve. The only alternative is to brake suddenly… if you can! Because many areas are filled with mud (humus gullied from the embankments, and not removed due to total lack of maintenance). So braking can be hazardous! In any case, we arrive at the stages soaked in mud. We go straight to the shower at the campsite. For those who stay in a guest house or hotel, we probably don't welcome them with open arms.
Some sections have completely stupid chicanes at intersections.
Another very telling example: CARHAIX. The greenway is interrupted there in the passage of the city, the grounds of the old railway having been resold: NO CYCLEWAY was created, but road signs proudly announce "800 free parking spaces" for the cars. Bikes? Go to hell, not a single euro will be spent on you… but of course you can come and buy from us.
CANAL DE NANTES À BREST
Along Canal de Nantes à Brest:
The Châteaulin - Pontivy section is not (or poorly) surfaced, except for a few sections that have been repaired… not with bitumen (too expensive for cyclists?) but with vulgar tar… so with lots of gravel left in place (too expensive to sweep for the safety of vulgar cyclists?).
The Pontivy - Malestroit section is a bit old but quite correct.
Then after Malestroit we return to the unpaved roads.
The maintenance of pathsides is too often poor, with ferns overflowing in the path. But everyone knows that ferns are the main home of ticks… and that these carry the dreaded Lyme disease. Contact of the legs and thighs with these ferns is therefore potentially dangerous… but the Brittany Region doesn't care.
Manifestement ce n'est pas prêt de changer car la Région (qui a repris en 2020 la gestion du canal) a de grand projets d'améliorations (sur 10 ans)… pour arborer les rives et pour la battelerie de plaisance. Pour le vélo ? RIEN !
In other words: Cyclists come! We want you to spend your money with us. But don't be under any illusion, you will get nothing! Not a single Euro of investment will be spent on you! Just enjoy our beautiful landscapes!
SECTIONS
NORMANDY
| | | | |
| --- | --- | --- | --- |
| Section | Departure | Arrival | Track |
| PAYS DE LOIRE and NORMANDY | NANTES | PONTORSON | GPX (zipped) |
BRITTANY
| | | | |
| --- | --- | --- | --- |
| Section | Departure | Arrival | Track |
| BRITTANY | PONTORSON | NANTES | GPX (zipped) |
The entire hike was done in camping mode.