Cyclo-hiking SCANDINAVIA (DK SE FI)
Click map's icon

for full-screen.
Below :
- General Data
- Step details
Slideshow (French)

DOWNLOAD file
of the detailed route…
GENERAL DATA
Country
Departures
Arrivals
Tracks
Distance
Year

DENMARK
SWEDEN
FINLAND


DK
TØNDER
FI
HELSINKI
TØNDER, SKAGEN, ÅLBORG, ÅRHUS, COPENHAGUE
MALMÖ, STOCKHOLM
ÅLAND ARCHIPELAGO, TURKU ARCHIPELAGO

2,868 km

2015
The prevailing winds, which can be strong and frequent, should be taken into consideration. We chose to drive from west to east, from Denmark to Finland. The only disadvantage is that in terms of scenic pleasure, Finland is far below other countries. The end of the trip thus detracts from the rest of the route.
There are many national cycle paths in Denmark, fewer in Sweden (except Malmö and Stockholm) and very few in Finland (except Helsinki).
The Scandinavians are cautious in their cars and generally respect cyclists. However, there is a small downside for the Swedes and a big one for the Danes. In these 2 countries the cars overtake at a good distance when the road is very wide. On the other hand, too often, the cars brush past when they have to pass a car. Therefore, in these 2 countries, we use one of our favourite tactics: when we see (in the rear-view mirror) that a car is likely to pass another one while overtaking us, then, and before the rear car catches up with us, we zigzag to make it look like we are not in control of our trajectory. It's infallible, before this risk drivers brake and wait wisely behind us before overtaking us. In Finland drivers wait wisely behind without needing to do so.
Campsites are of VERY different quality depending on the country:
In Denmark, where wild camping is strictly forbidden, there are many VERY well-equipped campsites.
Campsites in Sweden are generally OK with a few rudimentary exceptions.
Campsites in Finland are few and far between and the little equipment is too often dirty and/or broken.
In Sweden we had planned to go from Malmö to Gothenburg and then inland to Stockholm. At the end of Denmark, a little disappointed by the inland, we changed our Swedish route by following the Baltic Sea by the south. We did very well. During our preparations for the hike, we wanted to avoid the Swedish Baltic coast thinking we would find similar landscapes to what we had discovered during our hike on the German Baltic coast. In reality this whole Swedish coast is very different, it is one of the most beautiful part of our trip.
SOURCES :
| | | |
| --- | --- | --- |
| MAP | | ACCOMMODATIONS |
| | | |
It is a GREAT hike with pluses and minuses depending on the subjects and countries crossed.
Here a hotch-potch of the best:
The beauty and strength of the North Sea on the Danish West Coast
The magnificence of the Swedish coast
The colours of the Scandinavian skies
The charm of Stockholm
Copenhagen's monumental monuments
The art nouveau of Helsinki
Lutheran Churches
Finnish conviviality
Finnish motorists' respect for cyclists
Bicycle paths everywhere (not just in the city) in Denmark
Superbly equipped Danish campsites
Food shops open 7/7 16h/day
Danish food shops all over the countryside
4G coverage of Scandinavian mobile networks, everywhere, non-stop, even in the far reaches of the countryside or lost in the middle of the islands. All coverage infinitely superior to that of our boastful French operators.
For number crunchers:
3 countries
3 capitals
2,868 km
23,087 metres of positive height difference
4,463 photos (3,586 preserved)
2 rain cap ports only
2 days (only 1 full day) of pedaling in t-shirts
0 punctures
3 tire re-inflations
2 mosquito bites only (bravo and thank you INSECT-ECRAN by laboratory cooper)
21 ferries (4 DK + 5 SE + 12 FI)
135 kilos transported (2 bikes + 8 bags + 2 bags)
GOING - COMING BACK
GOING
Cyclo-hiking starts in TØNDER in Denmark. How to get there:
In Offenburg the D.B. night train Zurich - Hamburg-Altona.
In Hamburg-Altona the D.B. train to Niebüll.
In Niebüll the Danish train to Tønder.
COMING BACK
The tour ends in HELSINKI in Finland. To come back:
Reaching Germany across the Baltic Sea via the Helsinki (FI) - Travemünde (D) route of Ferry Finnlines
From Travemünde train station you can reach Lübeck by train.
In Lübeck you can choose between:

Rent a van one-way at Sixt with return of the vehicle in a branch such as Offenburg. Then continue by train as below.
Continue by train to Hamburg where day or night trains will take you to Switzerland via southern Germany. You can then disembark in Offenburg and take the TER to Strasbourg where all national SNCF connections are offered.
NOTE: The rental van solution may seem curious or even incomprehensible given its higher cost than the train. But the problem with 'coming back' is that, unlike 'going out', the date is not necessarily fixed months in advance. And the reservation at very short notice, in the middle of summer, of places WITH an undismantled bicycle is often impossible…
SECTIONS
DENMARK
| | | | |
| --- | --- | --- | --- |
| Section | Departure | Arrival | Track |
| 1 | TØNDER | KØBENHAVN | GPX |
SWEDEN
| | | | |
| --- | --- | --- | --- |
| Section | Departure | Arrival | Track |
| 2 | MALMÖ | STOCKHOLM | GPX |
FINLAND
| | | | |
| --- | --- | --- | --- |
| Section | Departure | Arrival | Track |
| 3 | MARIEHAMN | HELSINKI | GPX |
ACCOMMODATIONS
Almost the entire hike was in camping mode. The quality of these is very variable depending on the country:
In DENMARK there are many campsites of VERY good quality.
In SWEDEN the campsites are a little less numerous and of good quality, nothing more.
In FINLAND the campsites are few and poorly or very poorly equipped. And the little equipment is often deteriorated… visibly for a long time.
Otherwise for the main cities, which are important to visit, we have opted for the AirBnB facility. Almost all of them (except the first 2) were great: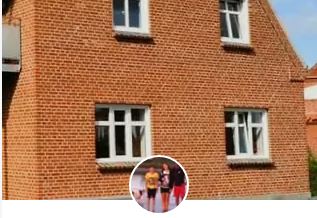 AAHRUS - George (Hyggelig 2-værelse m udestue/have)
Lodging in almost basement.
Poor reception.

COPENHAGEN - Boris (off site)
Tiny room.
Questionable hygiene, especially in the kitchen.

STOCKHOLM - Tomas (Relaxing family house in Stockholm)
Beautiful, comfortable house.
Tomas and his wife are delicious hosts.

TURKU - Kaisu (Yellow single family house)
Large, well-equipped house.
Kaisu and her husband are very friendly and helpful.

HELSINKI - Pekka (A lovely house w/garden in Helsinki)
Large house very well equipped.
Pekka gave us a warm, attentive welcome. However, at that time he had important family problems. This did not prevent him from being an exceptional host. Very very good address.
GROCERY STORES
For food purchases, the best brands are in descending order:
In Denmark: Meny, Føtex, Fakta, Superbest, Spar…
In Sweden: ICA, Coop, 7Eleven, Spar…
In Finland: K-Supermarket, S-Market, K-Citymarket, Prisma
Contrary to us in France, these countries (especially Denmark and Sweden) have been able to evolve and the openings are very favourable: most food shops are open 7 days a week for 16 hours a day.
For a search around you by Google-Maps the keywords are Supermarket or Grocery.